Houses, Condominiums, Apartments for Rent in Bangkok
Houses, condos and apartments for rent in Bangkok are our specialization. We cover Sukhumvit, Sathorn, Silom, riverside, Ploenchit, Ari, Thonglor, Ekamai, and all other areas of the city center, as well as the main expat suburban areas such as Bang Na, Bangkapi, Nonthaburi, and Pathum Thani.
For buyers, we track condominiums for sale in Bangkok, for both a home as well as investment properties for rent. (What is the difference between apartments and condominiums for rent in Bangkok?)
Prado Property Co., Ltd. (www.kkBkk.com) helps foreigners find the best home, best suited to each's needs, wants and budget. Everybody is different, so we are home matchmakers.
Prado Property Director on BBC World News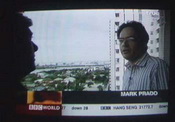 BBC World aired a field interview with Mark Prado, founder of Prado Property Co., Ltd. Mr. Prado has been involved in property development in Bangkok since 1995, both city center and suburbs, consulting to diverse entities.

This website, kkBkk.com , is operated by Prado Property Co., Ltd. Most staff are Thais who speak good English. Mark is the expat available to give you extra needed advice and can go with you on showings.

On a similar note, an article in the Wall Street Journal in April 2015 refers to us as "Prado Realty" but actually we are "Prado Property" instead.
Choosing a home, the environment you will be living in, is one of the most important personal decisions you can make in Thailand.


We can help find the best home for you, based on your school or work location in Bangkok or elsewhere, your family needs, style tastes, and location preferences. Our guidance can make the difference.


If you are investing in a longterm home, then you need to think through all the considerations and choose carefully.


We can give you an orientation to Bangkok and your regions of interest, discuss the advantages, disadvantages, and considerations of each, and view properties most appropriate for you.

If you have property of acceptable standards for foreigners coming to Thailand, then we can help you find renters or buyers, and help facilitate the personal and legal arrangements.


You can upload your information on-line, or contact us for assistance (including photography) and to discuss any matters.
Our company is directed by an expat from the USA who understands the kinds of places you are looking for, your standards of quality and your preferences. The core of our company is our professional Thai staff who are well trained and thoroughly cover the most popular regions. Additional staff can handle or advise you about legal and financial options.
We are flexible in how we can work with you. You can search our property listings on-line, or you can meet a real estate agent to show you listed condos and houses at no charge to you, including houses and condos not yet listed on this site (because it takes time to go photograph and list homes, and rentals often get snatched before they are listed).
There is no charge to renters/buyers for the service. We get our commission from the landlords/sellers.
Beyond property, for a guide to moving to, living and working in Bangkok, Thailand, see our parent site www.ThailandGuru.com
See also our Site Map
---
To other real estate agents: Yes, we co-Agent!
Our role in society is to find the best homes for families and individuals, by a good social mix of our fulltime agents and our contacts & coagents, for a nice lifestyle and a good karma purpose. Nothing is exclusive; we both provide and receive homes, as coagents in and out, and are open to new coagents who conform to (non-pushy) or share our philosophy. The best homes for all kinds, quality of life, and good relationships are most important. Please inquire about our Coagent Agreement.


We are still servicing clients in COVID times, but faced with ramping up as Thailand reopens, after major downsizing in 2020 due to COVID. Click here for details.