Houses for Rent in Bang Na
Bang Na is a favorite expat gated neighborhood area with large international school campuses, many communities popular with expats, large houses and yards, clubhouses, private pools, big yards, and lots of good shopping. Bang Na is the closest suburb to the Bangkok city center, and is connected by the BTS skytrain's Sukhumvit line (the stations Udom Suk, Bang Na, and Bearing), so it links to the most popular city center shopping, leisure and residential areas for expats. A main highway passes right thru the Bang Na housing area going into the city center (and also with many good golf courses along it). There are several super modern large shopping malls along and near this highway.
If you like large spaces, relatively low traffic, good shopping, and to actually be able to find abundant parking quickly most of the time, then you should consider Bang Na. Also, Bang Na has places with some of the cleanest air in Bangkok, because it is the southernmost expat suburb, whereby the air comes in off the Gulf of Thailand (the wind most of the year is south to north, hence the airport runway direction), not off the city center.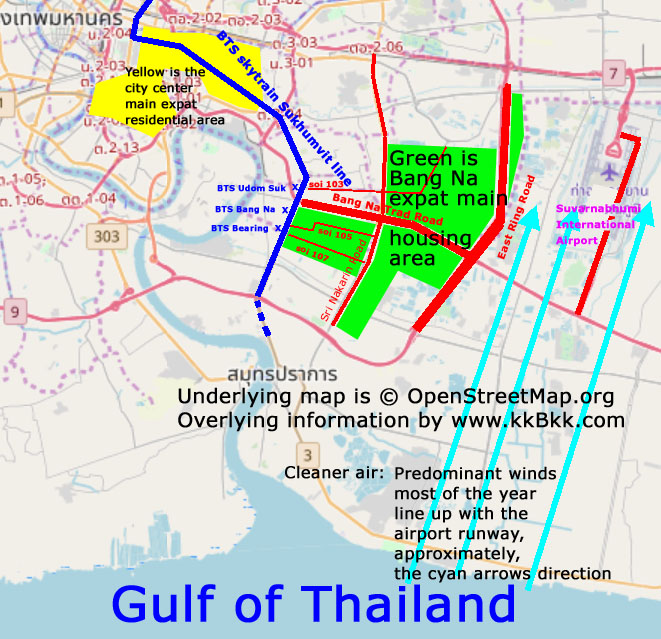 Bang Na Trad highway is a very well designed 2-level freeway cutting right thru the center of Bang Na, being the main thoroughfare. The elevated part is very high up, and has entry and exit ramps, but most people just use the ground level road because the center lanes normally move quickly. The ground level highway is 10 to 12 lanes, which is consistently 6 lanes in the middle (3 on each side) separated from the frontage road of 2 to 3 lanes on each side with a green area or median in between, with many shunt lanes between the middle lanes and the frontage road. This makes the road so that the center lanes normally move very fast, and the frontage road usually moves okay but there is traffic in and out of shopping malls, side roads, fast food outlets, and various other places.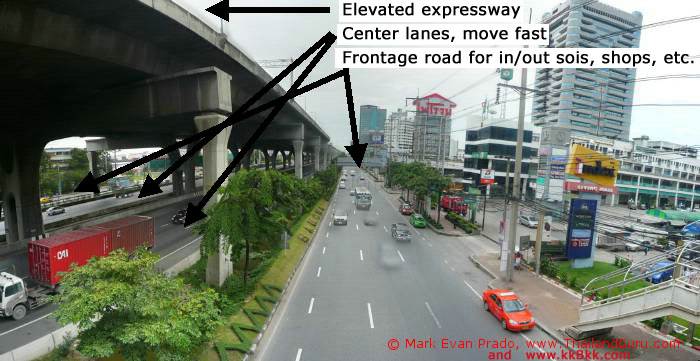 Geographically, Bang Na is located southeast of Bangkok, and the area of interest to expats is bordered on the north and south between Sukhumvit soi 103 Udom Suk and Sukhumvit soi 107 Bearing on the west side, and continuing to around the East Ring Road (Kanchanapisek). This is a very large area. (This is all depicted on the map above.)
The Suvarnabhumi International Airport is in Bang Na but it is a ways past the East Ring Road. You generally don't hear the airplanes west of the ring road.
There are some housing estates with expats outside our green area on the map, beyond the East Ring Road, such as Summit Windmill, Thana City, Lakewood, Green Valley, and others, but these are not as popular with expats. There are 2 issues: One is that there is a lot of industrial traffic after you pass the East Ring Road, and sometimes traffic jams due to the trucks. Beyond the ring road are industrial estates, standalone factories, and container farms. Trucks from northern and southern Thailand take the ring road and exit/enter at the intersection of the ring road and Bang Na Trad. Driving down Bang Na Trad from west (Sukhumvit) to east (towards the East Ring Road), the traffic will be fairly clear and there will be mostly normal residential suburban things on both sides of the road until you pass the ring road where you'll see some changes, due to the trucks starting at the interchange and the industrial areas beyond there. A second issue is that some of these places are under the airport flight path or too close to it for many expats who prefer quiet areas.
You can get to the Suvarnabhumi international airport quickly and easily from Bang Na Trad Road, as there is an airport interchange road right off Bang Na Trad Road, both the elevated one and the ground frontage road. Suvarnabhumi Airport has two main entrances to the airport from two parallel highways. Many people are more familiar with the other highway access point because taxis going to the city center usually take that one, but next time you exit the airport you might want to notice the turn off ramp for "Bang Na" as it's quicker for getting to Bang Na. The access road from Bang Na Trad is very good and convenient.
If you continue down Bang Na Trad Road past the airport and off our map, the highway going east quickly starts to pass industrial facilities and continues down the eastern seaboard industrial area, hence the heavy container trucks. However, there are some beaches down there, too.
Bang Na inside the East Ring Road is a very different story than Bang Na outside the ring road. Inside the ring road, it has many beautiful neighborhoods and lots of shopping, and is overall a fairly peaceful region of Bangkok.
Many of the neighborhoods have large yards and a lot of spacious greenery. Lakeside houses for rent are common here. Generally, the older the house, the larger the yard, but there are some exceptions. Many landlords of older rental houses have heavily renovated their properties so they are like brand new or nearly new.
There are many international schools in Bang Na, so that many expats are looking to find a house for rent near Bangkok Patana School or the American School of Bangkok in Bangna or one of the other schools.
There are superstores, grocery stores, and restaurants in this area. The main shopping malls are Mega Bang Na, Central City Bang Na, Paradise Park, and Seacon Square. Many smaller shopping centers are also there, such as Little Walk, Jas, Lasalle Place, and others. There are two good Villa Market grocery stores (my top rated expat grocery store), plus Foodland (24 hour and very good) and Tops.
The best known housing estates include the unique Lakeside 1 Village and Lakeside 2 Village, the multi-neighborhood chains Fantasia, Laddawan, Prukpirom, Narasiri, Nantawan, and Mantana (with significant variations between different neighborhoods with each chain), plus some boutique neighborhoods such as Arcadia, Mai Lom Ruen ("houses among woods"), Blue Lagoon, Grand Monaco, and others... plus, of course, the aforementioned ones beyond the East Ring Road which come with my caveats.
Bang Na is not an easy place for a real estate agency to survey. The neighborhoods are gated and highly secured, so you cannot get into most of them to just drive around and look for For Rent signs. Usually, you must tell the security guard exactly which house you are visiting, whereby they take your government issued photo ID card or driver's license, note your plate number, and give you a sheet of paper which you must get stamped at the home of the person you are visiting. Every house has a stamp for visitors. If you exit without that stamp, then they will normally detain you for awhile to check if there are any problems, might request to search your car, and the next time you go there they might not let you in without talking to your destination house. Some neighborhoods have security guards follow strangers in, or notify other guards in the community about your car and alleged destination. Notably, many houses for rent in those nice neighborhoods do not hang a "For Rent" sign on their house anyway. They contact certain agencies directly.
We have built up a familiarity with so many houses in Bang Na that we can very efficiently guide you to the best ones. We don't use the "buck shot" approach of just showing you everything we know about and then hope you like one of those enough to close on. Bang Na has so many houses that you can waste a lot of time there. We are familiar with houses there so we can guide you to the best houses in a very time efficient way.
We have the best selection of homes in Bang Na because we were one of the first agencies to systematically survey Bang Na, starting around 2003. (Some of our photos have early date stamps on them.) We have maintained our survey efforts over this whole time period. That's why we have so many houses in Bang Na displayed on this website, and actually we have many more which are not pictured on the website. You can browse our main selection of houses for rent in Bang Na. If you want to narrow down the search, then just click on "Renters Search" button at the top of this page, put in your criteria, check the box at the bottom for Bang Na, and then click on the Search button.
The Thailand Guru website also introduces houses for rent in Bang Na, Samut Prakarn and includes good maps for orientation.
---
---
---
SiteMap > Our Zones, Regions > in Bang Na