Apartments, Condos, and Houses for Rent in Silom and Sathorn
Zones A and E are on the left: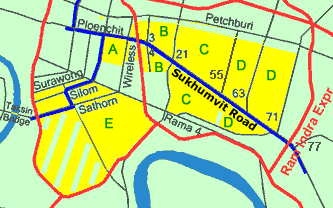 Being near the river and the oldest points of Bangkok, the Silom and Sathorn regions are the most commercial, densely populated, and generally oldest (but many modern new highrises).
Expats working in the Silom and Sathorn area often look for apartments and condominiums in our zones A and E, and can find some houses on back sois off Sathorn in zone E.
The skytrain is in dark blue, elevated expressways in red.
The Sathorn region has a network of back sois whereby you can enter and exit in multiple places. They are narrow in places, but usually don't jam too badly.
The entertainment places are mainly concentrated in the Silom area. Unlike the Sukhumvit region, there are not as many restaurants, grocery stores, and entertainment places on the back sois off Sathorn Road. You generally go into the Silom Road vicinity.
Along the river and beyond Surawong is generally called Chinatown, but you will find a lot of old Chinese enclaves in this region.
River boat transport is nice every once in a while, but not many people use river boats to get to work, because there aren't many homes along the river except some old highrise condos directly across the river, and the boats are very slow (and many stops) compared to the expressway.
There are some waterfront properties, but they are in narrow bands near Silom, and a few where a loop in the river approaches the Sathorn part of zone E. Other parts of the river are very old parts of town which are difficult to access by road, or industrial ports and factories.
---
---
---
SiteMap > Our Zones, Regions > on Silom and Sathorn