Electricity Adaptors
Typical Thai wall socket: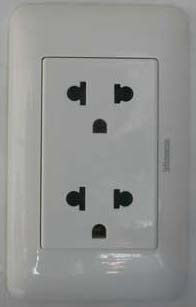 Most countries in the world run at 220 volts and 50 cycles/second (Hz), so the only matter for most electrical appliances you may bring with you is getting your plug to fit into the Thai wall jack -- a plug adapter.
There are many power strips in shopping malls which have a Thai plug for the wall but universal "all in one" recepticals to accommodate just about any foreign plug. (The sockets may seem weird shaped at first, but if you look carefully, you'll see that they probably accommodate your plugs well enough.)
If you bring a foreign power strip, then you need just a small wall adapter. Just be sure to get the 3-prong adapters, not the cheaper 2 prong ones. These are must abundant at I.T. centers, though you can also find them in some department stores. The brands Star, Toshino, and Electron offer 3 prong models. (Many Toshino and Electron strips have developed switch problems over time, and I'm not sure whether to rely on a rep's assurances that they've fixed that problem in new models.)
However, if you are coming from a 110 volt country, then you should not use the little, compact 220 to 110 V converters for anything except the smallest things, like phone chargers. Anything which takes much power will usually overheat the adapter and burn it out, often resulting in 220 volts frying your equipment. For anything which takes much power, you need a large transformer, which you can find in major department stores in expat areas.
Electricity is sometimes a simple matter, but other times more complicated.
For many years in the 1990s, I helped manage electrical grounding/earthing projects for industrial purposes, as well as did it all myself for friends and associates in residential situations.
Most new, modern apartments/condos and houses are grounded/earthed, but if you need any help after you move in, then ask ... if you are a customer of ours.
---
---
---
SiteMap > Moving, Tips > Electricity Adaptors